Enroll Your Pet at Inn the Doghouse
We need to know about your pet!
In addition to the forms below, written proof of current vaccinations is required for all dogs and cats (dogs: DHLPP, Rabies, Bordatella, H3N2 Canine Flu | cats: FVRCPP, Rabies). Please print and fill out the following forms; then, either fax them to us at (216) 651.0941 or bring them in when you plan to visit.   If you have any questions please call us at (216) 651-0873 for assistance.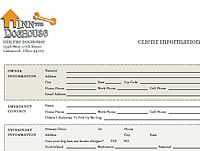 Client Information Form (PDF)
Rules and Requirement Form (PDF)
 Certificate of Health and Temperament Form (PDF)
All forms listed above are available to download and print.  Please complete these forms and bring them with you on your first visit. All forms are created using Adobe Acrobat and a free version of Adobe's Acrobat Reader is available here for download and install.


Inn the Doghouse | 1548 West 117th Street | Lakewood, OH 44107 | (216) 651-0873
All rights reserved | production by TDG