Our Staff
A dedicated team taking care of your pets
Whitney Callahan
Owner of Inn The Doghouse
Whitney graduated with a Bachelor of Arts degree in International Affairs/Spanish from the University of Maryland College Park in 1996. She was Co-Chair of F.I.D.O., the citizens committee that helped build the Lakewood Dog Park, and until recently served as Vice President of CCLAS (Citizens Committee for a Lakewood Animal Shelter). Her family bred and showed Champion Chocolate Labrador Retrievers and Whitney has whelped over 40 puppies. Whitney is certified in Pet First Aid from the American Red Cross. Her heart now belongs to her husband, Mark, sons, Brendan and Wyatt, and her fur children: a Bullmastiff named "Sookie" and two rescue cats, "Bogart" and "Bacall".
Lon Camp
General Manager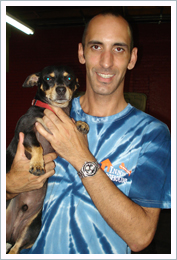 Lon graduated with a Bachelor of Science degree in Business Administration from Kent State University in 1999. Lon's animal career started at Place A Pet Foundation as PR Director and was promoted to Shelter Administrator where he helped organize community events such as the "Respect the Pet" campaign at Nautica in the Flats, which raised money for humane education in schools and brought awareness to the animal abuse issue. He collaborated with the APL of Cleveland, the Cuyahoga County Animal Shelter and the City of Cleveland Kennels to transfer adoptable dogs to the Place A Pet shelter. The adoption rate went from 50% to 90% under his direction. He continued to sit on the Board of Directors and collaborate on spay/neuter clinics, grant writing and other formats which affected animals in the Cleveland and surrounding areas. He grew up on a farm and had many pets throughout the years. Lon adores his Goldendoodle puppy, Olive, and spoiling your pets throughout the day.
Jacey
Manager Jacey has been a lifelong animal lover who has spent her time making sure she is surrounded by them. At age 9, she made her way to a local horse farm where she volunteered cleaning stables. She continued this throughout her teenage years, eventually giving riding lessons to young children. In more recent years, Jacey has found forever homes to many stray cats and intends to further her education in hope of one day owning and operating an animal sanctuary. Her goal is to create a place for older and neglected animals to peacefully live out their lives with the love and attention they may not have had in their younger years. She also dreams of working in equine therapy for children with special needs. Jacey's love of animals also extends into her spare time, as a volunteer at the Cleveland Metroparks Zoo. Jacey currently lives in Mentor with her wife Linda, her canine children, "Lilly", "Taquito", "Babes" and "Bear" amd her feline children "Philly", "Swisher", "TC" and "Chicken."
Alicia
Canine Concierge
Alicia graduated college in 2010 with an Associate Degree in Graphic Design however; her passion for animals led her back to caring for them. As a child, she would bring home stray dogs and cats and insist her parents let he keep them. Over the years, Alicia has rescued over nine four-footed friends and currently she has one Pitbull mix named Buckwald and a Domestic Longhair cat, Magic. Alicia's experience in animal care includes volunteering as far for abused and neglected animals as well as traditional kennel work. Alicia lives with her husband, Lou, and daughter, Madison. She also has nine chickens at home.
David
Canine Concierge
David has his Bachelor's Degree in Accounting with a minor in Business Administration. After over 20 years of experience in Accounting, he began volunteering and fostering with the canine rescue group, Marilyn's Voice, which focuses on puppy mill rescue. He found it rewarding to see how proper socialization and training can make even the most timid and troubled dogs capable of becoming loving pets who trust their owners. This inspired his love of animals, and he decided to leave the accounting profession to work with animals full time. David is certified through the American Red Cross in pet CPR and is currently enrolled in a dog training academy to become a Certified Professional Dog Trainer. David hopes to one day open a doggie gym and training facility that focuses on both dog and human fitness. David currently lives in Valley View with his partner, Mark and their Chihuahua furry babies Lady Belle and Bailey, along with their foster dogs.
Jillian
Canine Concierge
Jillian has always had a very strong connection with animals. There was never a time in her life when she didn't have a dog or cat or both in the house. She would bring home strays and beg her mom to let them to stay. At one point they had 4 dogs and a bunny! Jillian grew up in Toledo OH. When she was old enough, she volunteered at the Humane Society and other local shelters. When she moved to Cleveland, her passion for animals took an entirely different turn, and she worked at another local Boarding facility for 4 years. Through that time, she also volunteered at For The Love of Pits and the Cleveland APL. Jillian couldn't imagine her life without a job like this. She particularly enjoys watching dogs grow, learning their personalities and developing a bond fill with trust. She currently resides in the Cleveland area with her dog, Dunkin, and Mini lop Benny.
Jonathan
Canine Concierge
Jon is a lifelong animal lover who graduated from the University of Akron with a B.A. in Sociology: Criminology and Law Enforcement. While searching to find the right job, he realized that he wanted to do something with animals professionally. Jon volunteered at Berea Animal Rescue as a Dog Companion, Dog Consultant and Shift Leader In addition, Jon attended Stautzenberger College Vet Tech program and also works as a Dog Warden for Cuyahoga County. Jon shares his home with his dogs, "Shelby" and "Dodger".
Linda
Linda was born and raised in San Antonio, Texas where she cared for many young children from the age of 10. Whether volunteering in a relative's daycare center, babysitting or working as a camp counselor, caring for younger children became an almost everyday occurrence. Linda was introduced to animals later in life, but found her passion upon meeting her wife at the age of 21. Together the two have rescued, fostered and found forever homes for countless cats and continue to do so today. Since joining the ITD team, Linda has soaked up every aspect of dog behavior she can. She continues to learn as much as she can about dog communication and hopes to one day own and operate an animal sanctuary. Linda currently lives in Mentor with her wife, Jacey, their canine children: Lilly, taquito and Gave and their family children: Philly, Gustav, Tank, Cream Cheese and Ducky.
Melanie
Canine Concierge
Melanie's love of animals stems from childhood where several sad experiences with abused dogs led her to make a promise that she would help animals when she grew up. She fulfilled that promise by working nineteen years in the kennel of a no-kill animal shelter in upstate New York. In this capacity, she was able to take care of and give love to hundreds of homeless often abused dogs until they found their "forever" home. After moving to Ohio, she wanted to continue to work in the animal field and was lucky to land at Inn The Doghouse. Melanie lives in Bay Village with her husband, Tim, her son, Jesse, and her toy fox terrier, "Little Bit".
Sam
Canine Concierge
"Whoever said diamonds are a girl's best friend has never owned a dog." Sam has owned pets her whole life, including cats, guinea pigs, dogs, and even squirrels. When she moved to Indiana for a year she wasn't allowed to have pets, and she worked a desk job at a debt collection agency and went through pet withdrawal. Saddened by the lack of animals in her life, she began volunteering at the local shelter to help out those in need. When Sam and her fiancé moved back to Cleveland her mother suggested she work at a boarding facility. Lord knows Moms are always right! Sam has been working at boarding facilities for almost four years now and couldn't be happier. She absolutely loves working with dogs! They're loyal, always excited to see you, and they make for quite an entertaining day. Sam's attitude is, "how can you have a bad day when you make a living playing with dogs?!"
William
Canine Concierge
William has always had a passion for working with and helping animals. 14 years ago while working in a pet store, he became very interested in pet nutrition after questioning what exactly was in the food he was selling. A few classes later and William became resident pet food specialist at his local pet store, helping many pet owners find the perfect food for their animals. William even got the store to carry more natural and healthy foods. Eventually, he wanted to do more and moved on to working in an Animal Hospital. Always hard working, William started in the kennel and after lots of experience and learning made his way up to Veterinary Technician. A family move brought him back to his hometown of Cleveland several years ago where he currently lives with his Girlfriend, Lori, and their three cats; Marc, Jack, and Frank.

Inn the Doghouse | 1548 West 117th Street | Lakewood, OH 44107 | (216) 651-0873
All rights reserved | production by TDG