Inn The Doghouse
Inn The Doghouse is a safe hangout for friendly city dogs and cats. Dog Daycare with our pack includes social fun, games and a little education. Sleepovers are also available, where your dog can play and exercise during the day and be kept safe at night. While your pet is at ITD, we will enjoy and love them almost as much as you do. We are conveniently located on the border between Lakewood and Cleveland. Our address is 1548 West 117th Street in Lakewood at the corner of Franklin and 117th Street. Our phone number is (216) 651-0873.
Inn The Doghouse Hours
Monday to Friday:  7 AM – 7 PM
Saturday:  9 AM – 7 PM
Sunday:  9 – 11 AM and 5 – 7 PM  (for pick-ups and drop-off of our overnight guests)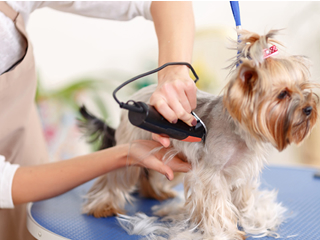 Inn the Doghouse offers a broad selection of luxury spa services for dogs.  We are proud of offering a healthy, natural ways to bring a thriving, beautiful experience to your dog.  Full grooming services for short or long hair dogs is tailored to meet their personal needs.  We also offer a number of additional A la Carte services like a Blueberry Facial, Pawdicure, and even a Play and Pamper Package.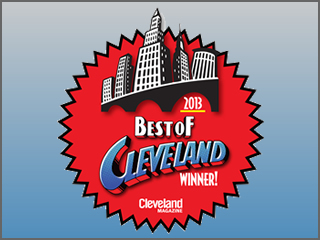 Our clients, guests and staff always knew we offered great services and loved the pets entrusted to us, but now it's official.  Cleveland Magazine readers gave us their 2013 Readers Pick Award as the best Pet Day Care facility in the area.  We want to thank our many supporters, our family and of course our clients and staff.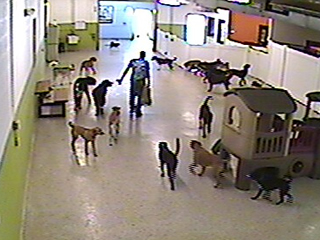 Inn the Doghouse proudly offers you the ability to view your furry loved ones while at work, or at the home office! Simply click one of the camera view option on our Doggy Cam page to view the camera stream. We provide views of pets in our Indoor Dog Park, the Pet Spa, our grooming area, and the individual rooms where pets are our overnight guests.
Whitney Callahan, owner of Inn The Doghouse was featured in a commercial for Progressive Insurance promoting their vehicle insurance program. We share that commercial with you here.

I have been bringing my dog here for just over a year now.  I can not say enough great things about the staff here! They love my puppy (now 2 years old) so much.  They know his quirks, i.e. he's afraid of strangers, but once he knows you, it's nothing but love.  Lon is the BEST!  But honestly, everyone that works there is wonderful.  . . . read more
Ashley S.
Thank you so much for your wonderful care in our absence. I was able to log on and take a little peek using your Doggie Cam while in Egypt a few times and always saw Blackie playing happily.
Anne
Inn The Doghouse
Inn the Doghouse: Your friendly neighborhood pet sitting location.
Inn the Doghouse | 1548 West 117th Street | Lakewood, OH 44107 | (216) 651-0873
All rights reserved | production by TDG