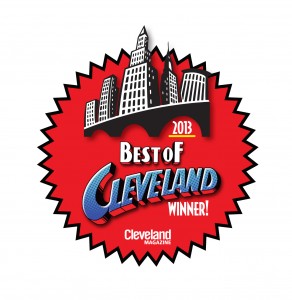 Our clients, guests and staff always knew we offered great services and loved the pets entrusted to us, but now it's official.  Cleveland Magazine readers gave us their 2013 Readers Pick Award as the best Pet Day Care facility in the area.  We want to thank our many supporters, our family and of course our clients and staff.
Again, Thank YOU!
Our Home on 117th Street
As you know we moved to our current location next to KFC on West 117th Street awhile back and our four-legged guests just love it.  The address is 1548 W 117th Street, Lakewood, OH 44107


At our facility we offer:
- 7200 Square Foot Pet Resort
- Quiet, Comfortable Lobby with separate entrance to our Pet Spa
- Expanded Daycare & Traditional Boarding
- Upscale, Private Dog Suites with Webcams
- Deluxe Cat Room Rooms with Outdoor Views
- Indoor & Outdoor Pet Grass Areas
Thank you for visiting Innthedoghouse.com!
If you are interested in using our daycare or boarding services, all dogs that come to ITD for the first time must pass a trial day. This is to establish that this is the right environment for them. During the trial day, their temperament and behavior is monitored by our trained staff. Once your dog passes their trial day, they can come to daycare anytime Mon-Fri from 7am-7pm without an appointment. The only services you would need a reservation for is boarding or grooming.
If you would like to set up a trial day for your dog or have any questions or concerns, please feel free to call us at 216-651-0873 anytime Mon-Fri from 7am-7pm and one of our staff members would be happy to assist you. You can download a client information form from the website under the Forms tab and bring it with you to the trial day or simply fill one out when you visit us. In addition, all dogs must be at least 4 months old, be spayed or neutered if over 7 months old, and be up-to-date with the DHLPP, Bordatella and Rabies vaccines.
---
Inn the Doghouse proudly offers you the ability to view your furry loved ones while at work, or at the home office! Our Cleveland area Dog Daycare is now available on camera! Simply click one of the links on our Doggy Cam page to get started. 
We received tremendous response from our new web cams. We have recently added a new slobber cam, which gives you a look at ITD from your pups perspective. Enjoy!